There have been those Deep State players who have had foreknowledge of previous epidemics and pandemics, but readers will have to research for proof of that statement because I want to get onto the existential question:
Did the Pence appointed leader of the fight against Covid-19, Dr. Fauci [and others like Dr. Birx], know full-well that a disease would be unleashed in 2020?
In light of the fact that in October, 2019, there was a modelling done of a coming pandemic, run by Bill Gates, the World Economic Forum and John Hopkins University, I think it's a fair question. And again - reportedly there has been modelling of past epidemics just before they struck, as if the modelers were prescient or clairvoyant. Sure. Right. Again though the readers can research that claim too.
But, the pattern is becoming just too obvious. We are supposed to carry on without raising questions for fear of being labelled as tin foil mad hatters.
I WOULD LIKE TO SOUND DIPLOMATIC AND WRITE ACADEMICALLY AND EQUANIMICALLY ABOUT THIS, BUT THE WHOLE BUSINESS OF THE CORONAVIRUS PANDEMIC IS SMELLING LIKE A COW PADDOCK - THE ORIGINS OF THE VIRUS, THE RESTRICTIONS PUT INTO PLACE, THE PURPOSE OF OUR ISOLATION, THE FUDGED INACCURATE STATISTICS, THE MEDIA HYPE, AND THE PERSONALITIES NOW IN PLAY. I'M TIRED OF PUSSY-FOOTING AROUND THE WHOLE ISSUE - BUT FOR NOW, THIS POST DEALS WITH ONLY THE AMERICAN LEAD PERSONALITIES APPOINTED TO MITIGATE THE EFFECTS OF THE PANDEMIC - TO WIT: Dr. FAUCI, AS WELL AS Dr. BIRX AND THEIR CONNECTIONS. [I want readers to view the Amazing Polly's research on the connections in the video posted below].
First,
there's Fauci's "premonition" and warning from 3 YEARS AGO that Trump would be faced with a pandemic. YES, REALLY !!
AND, FROM THE HORSE'S MOUTH ...........
SOMETHING ELSE: Back in 2013, Fauci backed the use of Hydroxychloroquine to fight viral outbreaks. BUT IN 2020, IN THE PRESENT PREDICAMENT WE ARE IN, HE HAS CHANGED HIS TUNE. What's goiung on with this guy?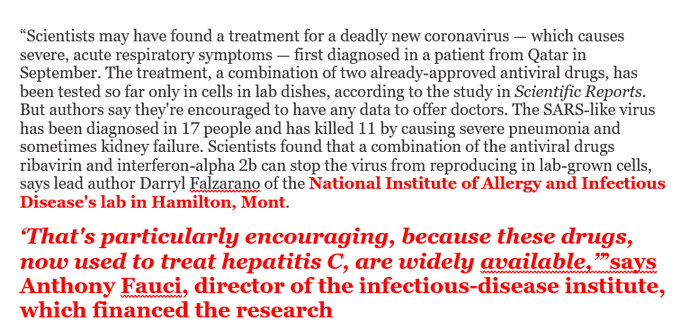 NIAID Director Dr. Anthony Fauci is amassing quite a record these past few months.
On March 20th Dr. Fauci
"corrected" the president
during a press briefing on hydroxychloroquine saying, "You got to be careful when you say 'fairly effective.' It was never done in a clinical trial… It was given to individuals and felt that maybe it worked."
Dr. Fauci was repeatedly skeptical of hydroxychloroquine's effectiveness in treating the novel coronavirus.
But he wasn't so skeptical back in 2013.
In fact, Dr. Anthony Fauci CHEERED the use of hydroxychloroquine appeared effective "only in cells in lab dishes" in treatment of against MERS.

NOW I REFER READERS TO POLLY. THERE IS NOT JUST ONE VIDEO WITH POLLY'S RESEARCH BUT SEVERAL ON THE CHARACTERS INVOLVED WITH THE PANDEMIC. I URGE YOU TO SEARCH THEM ALL. AND TO WATCH THEM. HERE IS A STARTER .......